Camaret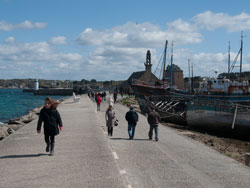 The Pointe de Pen Hir and the Tas de Pois, the Tour Vauban, the Pointe des Espagnols, and the beaches offering activities such as sailing, surfing, kayaking, kite flying, windsurfing, and canoeing, etc.
The Pointe de Pen Hir and the Tas de Pois
The Pointe de Pen Hir, prolonged out at sea by the Tas de Pois, is undoubtedly one of the most famous beauty spots of Camaret and has been a favourite excursion among visitors since the 19th century. From there it is possible to see the Pointe du Raz and the Pointe Saint Mathieu. On a clear day it is even possible to see the islands of Sein, Ouessant and Molène.
The Tour Vauban
The World Heritage Committee has listed the Vauban Fortifications as part of the UNESCO world heritage. 
Among the twelve listed fortifications is the Tour Dorée of Camaret-sur-Mer.